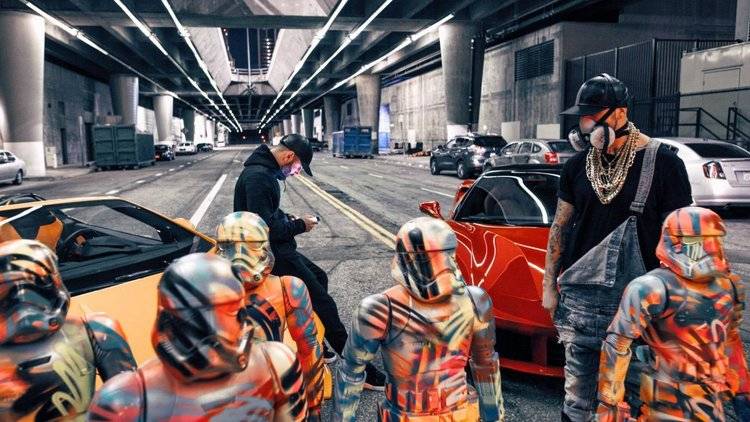 WHAT WE THINK
Entrepreneurs work hours behind desks. Entrepreneurs are operators. Entrepreneurs wear suits.
If these facts are solemnly true, then pigs do in fact fly.
WHAT THEY ARE
Entrepreneurs are whoever they know themselves to be. They see beyond limits. They are free; their work is their choice.
Just like not all heroes wear capes, not all hustlers wear suits.
Entrepreneur.com featured ARTrepreneurs Mark Brazil and Jeff Cole, co-founders of IKONICK, a vibrant leader in canvas art geared towards the go-getters. Just like in any start-up, the founders of the company do not play by the rules, so neither does their art. Andrew Medal, Entrepreneur.com's contributor, discussed Brazil's success with artist Jeff Cole. Not all work necessarily comes first. IKONICK is example A; in instance A, Medal writes, "because the art comes first and the business comes second, artists don't always receive credit for pushing the needle forward when it comes to marketing and sales."
There is a Ying because there is a Yang.
A comparison is telling. Artwork of a more business forward nature, backed by marketing and sales, has started hitting the mark. That mark is Brazil (@markbrazil). He is Ying, the mixed media manager behind the scenes. Making Cole, Yang, the ingenious creative madman with a product the people want.
WHERE THERE'S A MARKET, THERE'S A GAP
The niche IKONICK filled was rebranding art distributors as "pioneers in the e-commerce space," Medal acknowledges the founders for their innovation of changing the marketplace. Mark and Jeff have also taken advantage of social media's ability to connect with audiences.
They had the will, thus found a way.
The struggle is real at 100k followers. Before 100k came 5k, which was the starting point Cole found himself before Brazil began managing media. Establishing content segmentation is aiding in the "de-swamping" of the already crowded marketplace. The cliff notes of this idea permanently separated Jeff Cole's personal life Instagram @jcolegraphix from his now widely successful professional account @cole. A quick way for consumers to decide whether they want to see his artwork or catch up on the latest episode of Cole.
Where do you go from here?
Next step in Brazil's plan for the artist's takeover, was to align wisely. As the age-old anecdote explains; you are who you surround yourself with. What is your brand's style, target audience, etc. then set yourself up strategically with associations. Lastly, work hard and work smart! There's the person who gets A's despite never studying. Then there's the person who earns their A after hours of working for it. Put those two traits together?
The answer becomes basic math, talent + work = Limitless Upside.